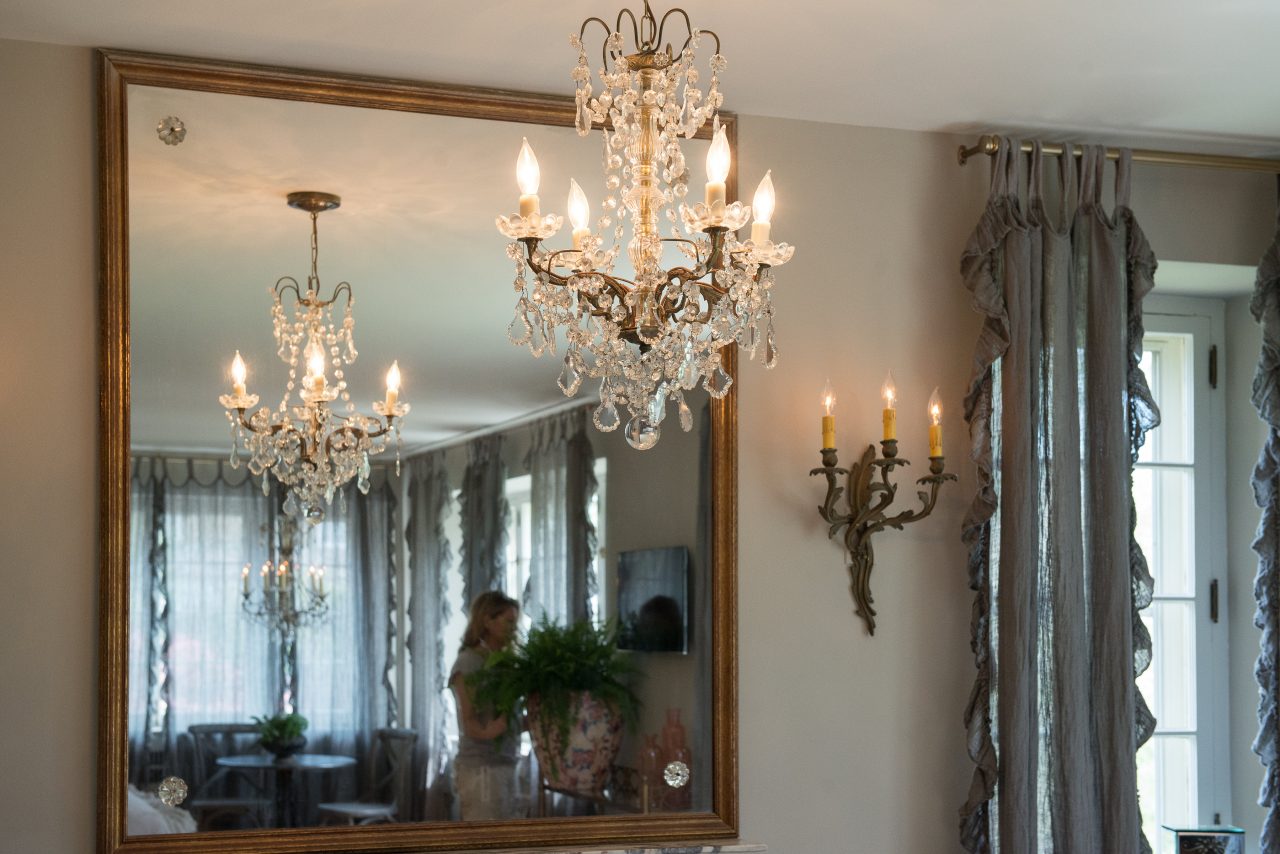 Restoring Architectural Gems – Chestnut Hill, Philadelphia Interior Design
Project Scope
Interior Architecture
Interior Design
Materials Selection
Bathroom Design
All furniture, fixtures, textiles, etc.
Construction
Regan Construction
Photography
Julia Lehman Photography
There is nothing quite like a bedroom retreat at the end of a long day.   Tallulah & Bird Interior Design loves to create spaces that are much like a luxury hotel suite.  Glamorous chandeliers, ethereal fabrics, sparkly tile, large soaking tubs, huge showers defined only by marble slabs; this beautiful stone home in the Chestnut Hill neighborhood of Philadelphia was the perfect place to infuse our Tallulah & Bird style! The home is classic and timeless, and the work that we did here seamlessly blends with the existing character. We found the chandeliers in the South of France, though they originated from Italy.  The daybed is a stunning French antique.  The rug is vintage pieces sewn together.  The bergere chairs, also from the South of France have been upholstered in a pale pink tweed.  We love how they turned out!  The master bathroom is one of our all time favorites.  The floor is so sparkly and that shower!  The installation was an engineering feat, but so worth the extra effort! The console that has been used for the vanity was found at a flea market.  With some crafty revisions the perfect double vanity was created.  Behind the old doors from France hides the coffee pot, the wine glasses and the mini fridge. The vintage arched door leads to the custom designed dressing room and closet.  The laundry room is fresh and functional, but we like every opportunity to be creative.  The sideboard found in a second hand shop was really unappealing until it was painted this amazing blue and the milk glass knobs were added! The chandelier with the green milk glass articulates the hallway perfectly and the Maison Jansen iron bench was upholstered to coordinate with it beautifully.  The second bath was completely reworked and the very awkward space was transformed to become this lovely, functional bathroom.  It is so fantastic to be a part of the restoring so many spectacular Chestnut Hill architectural gems! Regan Construction Company did a meticulous job executing our design work!
Julia Lehman photography, thank you for capturing the magic so beautifully.